In Memory
James Fahndrich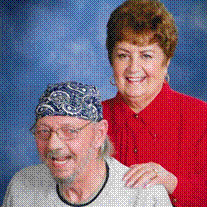 James Leo Fahndrich
James passed away on Sunday, July 9, 2017 at Borgess Medical Center in Kalamazoo. From 1965-1969, Jim served in the U.S. Navy during Vietnam. On November 17, 1978, Jim married the former Patsy Fierke in Battle Creek. The couple resided in Sherwood Township for the last 17 years. Jim was a good mechanic who performed car repairs and ran a paint shop from home while he lived in the Battle Creek area. He also worked for Kipp's Refuse and Peerless Pet Foods in Battle Creek. During that last decade of his career, he was employed at Griswold Manufacturing in Union City until retirement in 2008. Known for being a jokester, Jim loved to tease his grandkids. He always saw the funny side of things. He loved cookies, his wife and children a great deal. He also loved his dogs, to the point he would even share his cookies with them. He was a fan of country music and the Oldies. Jim liked dining out and grocery shopping with Patsy. They enjoyed vacationing in Ludington and staying at the "Lazy Days and Busy Nights" motel in Branch, MI. He always had to visit the Badger ferry while they were there. Jim was proud of his years of Naval service and especially proud that he finally managed to quit smoking six years ago. He was a onetime member of both the Moose Lodge and the American Legion. He enjoyed attending church with his wife at North Athens Baptist. In addition to his wife, Patsy, survivors included his children: James Fahndrich, Tennille (David) Wilson, Douglas (Sally) Fierke, Kathleen Fierke, Joline Chaney; daughters-in-law Nancy Fierke and Margaret Fahndrich; several grandchildren and great-grandchildren; a brother, Joseph (Diane) Fahndrich; and his always helpful friend, Babe Risner. Jim was preceded in death by his parents and two sons, William Fahndrich (2007) and Steven Fierke (2017); and a brother-in-law, Donald Bordeau.
Information from Battle Creek Enquirer online on July 11, 2017 and
Lighthouse Funeral & Cremation Services, LLC, Union City, MI.